1. DEA Drug Take Back Day This Saturday. The Drug Enforcement Authority is operating their Drug Takeback program this weekend. To find out where you can take your expired or unused drugs, go to www.DEA Drugtakeback.com. Just enter you zip code and a few other items.
Take Back Day: Saturday, October 27, 2018 10:00 am – 2:00 pm
2. A Fungus That Eats Polyurethane. Could this help our plastic problem?
To Sehroon Khan, a scientist at the Kunming Institute of Botany in the province of Yunnan, China, exploring a new garbage dump is kind of like going to the grocery store. "You know that if you go to a vegetable market, you can find all types of vegetables easily," Khan says. "If you go to a garbage or dumping site where there are many plastic wastes, there must be a microorganism that can degrade it."
In 2017, Khan and a team of other scientists collected a sample of a previously undiscovered strain of fungus on top of a garbage dump in Islamabad, Pakistan. When they took it back to China to study in the laboratory, the species of fungus, a previously undiscovered strain of the species Aspergillus tubingensis, was able to break down polyurethane—common in industrial settings and used in refrigerators, fake leather, and many other applications—in just weeks instead of decades. The fungus secretes enzymes that break down the plastic's chemical bonds and uses its mycelia—filaments fungi grow that are much like a plant's roots—to break apart the plastic further.
Although there have been studies in the past highlighting fungus species that can degrade plastics, these species are rare, and Aspergillus tubingensis has never been found to do so before. The new strain "has potential to be developed into one of the tools desperately needed to address the growing environmental problem of plastic waste," according to Kew Gardens' State of the World's Fungi report.
Plastic is popular precisely because it doesn't degrade—there are very few life-forms out there that are capable of eating it. Plastic is also wreaking havoc on ecosystems around the world for the same reason. Most of the 8.3 billion tons of plastic that have been produced since its use became widespread in the 1950s still exists in some way. Only a fifth of all plastic is recycled.
While the discovery has potential, it will likely take years to develop it into something that can break down polyurethane on a large scale, partially because the scientists are still working on determining the best conditions for the fungus to grow. Khan's team is at work looking for applications for their findings, and Leitch is cautiously optimistic. "This is an exciting discovery, but it is really quite new—it is going to be a long road to turn it into a solution."
3. Small Trees For Small Yards. November 7th. The City of Glendale is hosting a class introducing information. Go to www.glendaleaz.com/ WaterConservation/classesandeducation.cfm
4. Next Wednesday : Halloween – Question: Who secretly created an eight foot tall monster out of separate body parts collected from a charnel house? Answer at end of the newsletter
History of Halloween:
Ancient Origins of Halloween
Halloween's origins date back to the ancient Celtic festival of Samhain (pronounced sow-in). The Celts, who lived 2,000 years ago in the area that is now Ireland, the United Kingdom and northern France, celebrated their new year on November 1.
This day marked the end of summer and the harvest and the beginning of the dark, cold winter, a time of year that was often associated with human death. Celts believed that on the night before the new year, the boundary between the worlds of the living and the dead became blurred. On the night of October 31 they celebrated Samhain, when it was believed that the ghosts of the dead returned to earth.
In addition to causing trouble and damaging crops, Celts thought that the presence of the otherworldly spirits made it easier for the Druids, or Celtic priests, to make predictions about the future. For a people entirely dependent on the volatile natural world, these prophecies were an important source of comfort and direction during the long, dark winter.
To commemorate the event, Druids built huge sacred bonfires, where the people gathered to burn crops and animals as sacrifices to the Celtic deities. During the celebration, the Celts wore costumes, typically consisting of animal heads and skins, and attempted to tell each other's fortunes.
When the celebration was over, they re-lit their hearth fires, which they had extinguished earlier that evening, from the sacred bonfire to help protect them during the coming winter.
By 43 A.D., the Roman Empire had conquered the majority of Celtic territory. In the course of the four hundred years that they ruled the Celtic lands, two festivals of Roman origin were combined with the traditional Celtic celebration of Samhain.
The first was Feralia, a day in late October when the Romans traditionally commemorated the passing of the dead. The second was a day to honor Pomona, the Roman goddess of fruit and trees. The symbol of Pomona is the apple, and the incorporation of this celebration into Samhain probably explains the tradition of "bobbing" for apples that is practiced today on
Halloween.
All Saints Day
On May 13, 609 A.D., Pope Boniface IV dedicated the Pantheon in Rome in honor of all Christian martyrs, and the Catholic feast of All Martyrs Day was established in the Western church. Pope Gregory III later expanded the festival to include all saints as well as all martyrs, and moved the observance from May 13 to November 1.
By the 9th century the influence of Christianity had spread into Celtic lands, where it gradually blended with and supplanted the older Celtic rites. In 1000 A.D., the church would make November 2 All Souls' Day, a day to honor the dead. It's widely believed today that the church was attempting to replace the Celtic festival of the dead with a related churchsanctioned
holiday.
All Souls Day was celebrated similarly to Samhain, with big bonfires, parades, and dressing up in costumes as saints, angels and devils. The All Saints Day celebration was also called All-hallows or All-hallowmas (from Middle English Alholowmesse meaning All Saints' Day) and the night before it, the traditional night of Samhain in the Celtic religion, began to be called All-Hallows Eve and, eventually, Halloween.
Halloween Comes to America
Celebration of Halloween was extremely limited in colonial New England because of the rigid Protestant belief systems there. Halloween was much more common in Maryland and the southern colonies.
As the beliefs and customs of different European ethnic groups as well as the American Indians meshed, a distinctly American version of Halloween began to emerge. The first celebrations included "play parties," public events held to celebrate the harvest, where neighbors would share stories of the dead, tell each other's fortunes, dance and sing.
Colonial Halloween festivities also featured the telling of ghost stories and mischief-making of all kinds. By the middle of the nineteenth century, annual autumn festivities were common, but Halloween was not yet celebrated everywhere in the country.
In the second half of the nineteenth century, America was flooded with new immigrants. These new immigrants, especially the millions of Irish fleeing the Irish Potato Famine, helped to popularize the celebration of Halloween nationally.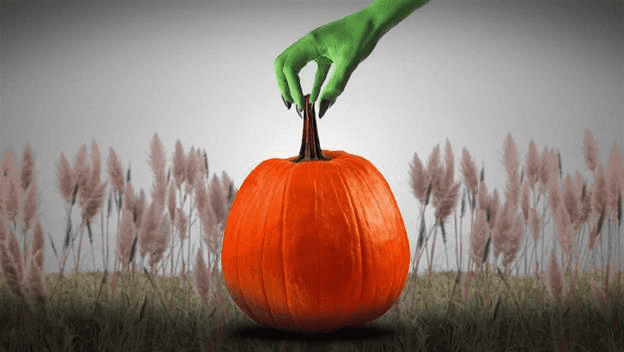 Borrowing from Irish and English traditions, Americans b began to dress up in costumes and go house to house a asking for food or money, a practice that eventually became today's "trick-or-treat" tradition. Young women believed that on Halloween they could divine the name or appearance of their future husband by doing tricks with yarn, apple parings or mirrors.
In the late 1800s, there was a move in America to mold Halloween into a holiday more about community and neighborly get-togethers than about ghosts, pranks and witchcraft. At the turn of the century, Halloween parties for both children and adults became the most common way to celebrate the day. Parties focused on games, foods of the season and festive costumes.
Parents were encouraged by newspapers and community leaders to take anything "frightening" or "grotesque" out of Halloween celebrations. Because of these efforts, Halloween lost most of its superstitious and religious overtones by the beginning of the twentieth century.
By the 1920s and 1930s, Halloween had become a secular, but community-centered holiday, with parades and town-wide Halloween parties as the featured entertainment. Despite the best efforts of many schools and communities, vandalism began to plague some celebrations in many communities during this time.
By the 1950s, town leaders had successfully limited vandalism and Halloween had evolved into a holiday directed mainly at the young. Due to the high numbers of young children during the fifties baby boom, parties moved from town civic centers into the classroom or home, where they could be more easily accommodated.
Between 1920 and 1950, the centuries-old practice of trick-or-treating was also revived. Trick-or-treating was a relatively inexpensive way for an entire community to share the Halloween celebration. In theory, families could also prevent tricks being played on them by providing the neighborhood children with small treats.
Thus, a new American tradition was born, and it has continued to grow. Today, Americans spend an estimated $6 billion annually on Halloween, making it the country's second largest commercial holiday after Christmas.
Are You Prepared To Cast Your Vote?
Read/Understand The propositions Below
5. November 6th 2018 Elections: Vote Intelligently. If you have not mailed your early ballot (October 9th), it is hoped that you will make your way to the facility on November 6, 2018 to cast your ballot. When you arrive to vote at the polls on Election Day you will announce your name and place of residence to the election official and present two forms of identification:
Valid Arizona driver license
Valid Arizona non-operating identification card
Tribal enrollment card or other form of tribal identification
Valid United States federal, state, or local government issued identification OR
Sufficient ID Without A Photograph That Bear The Name And Address (Two Required)
Utility bill of the elector that is dated within 90 days of the date of the election. A utility bill may be for electric, gas, water, solid waste, sewer, telephone, cellular phone, or cable television
Bank or credit union statement that is dated within 90 days Registration of the date of the election
Valid Arizona Vehicle
Indian census card
Property tax statement of the elector's residence
Tribal enrollment card or other form of tribal identification Arizona vehicle insurance card
Recorder's Certificate
Valid United States federal, state, or local government issued identification, including a voter registration card issued by the County Recorder
Any mailing to the elector marked "Official Election Material"
Understand Your Vote:
Proposition 125
PROPOSING AN AMENDMENT TO THE CONSTITUTION OF ARIZONA; AMENDING ARTICLE XXIX, SECTION 1, CONSTITUTION OF ARIZONA; RELATING TO PUBLIC RETIREMENT SYSTEMS.
---
The Constitutional Amendment and accompanying legislation would permit the state to adjust certain benefits in the corrections officers' and elected officials' retirement systems to alleviate pension underfunding.
A "YES" vote will allow the State to adjust certain benefits for corrections officer retirees and elected official retirees in order to provide greater financial stability in the pension system; plan changes for newly-hired corrections officers include the replacement of the current permanent benefit increase with a cost of living adjustment tied to inflation and transition to a defined contribution system; plan changes for elected official retirees include a guaranteed cost of living adjustment tied to inflation.
A "NO" vote will have the effect of maintaining the current benefit and contribution rules in the Corrections Officer Personnel Retirement System and Elected Officials Personnel Retirement System.
Proposition 126
AMENDING ARTICLE IX OF THE ARIZONA CONSTITUTION BY AMENDING
SECTION 6 AND ADDING SECTION 25, AND AMENDING ARTICLE XIII, SECTION 2, OF THE ARIZONA CONSTITUTION; PROHIBITING THE TAXATION OF ANY SERVICE THAT WAS NOT TAXED AS OF DECEMBER 31, 2017.
The Constitutional Amendment would prohibit the state and each county, city, town, district, or other political subdivision in Arizona from imposing a new or increased tax on services that was not already in effect on December 31, 2017.
A "YES" vote will prohibit the State and local governments from enacting any new or increased tax on services that was not already in effect on December 31, 2017.
A "NO" vote will preserve the State and local governments' existing authority to impose a tax on services in the future.
Proposition 127
THE CONSTITUTIONAL AMENDMENT WOULD REPLACE ARIZONA'S CURRENT PLAN FOR INCREASING RENEWABLE ENERGY USE BY IMPOSING A NEW MANDATE REQUIRING NONGOVERNMENTAL ELECTRIC UTILITIES TO INCREASE THE PORTION OF THEIR RETAIL ENERGY SALES GENERATED FROM CERTAIN TYPES OF RENEWABLE ENERGY RESOURCES TO 50% BY 2030.
---
The Constitutional Amendment would replace Arizona's current plan for increasing renewable energy use by imposing a new mandate requiring nongovernmental electric utilities to increase the portion of their retail energy sales generated from certain types of renewable energy resources to 50% by 2030.
A "YES" vote will replace Arizona's current plan for transitioning nongovernmental electric utilities to renewable energy with a constitutional mandate that, irrespective of cost to consumers, 50% of the retail energy sales of these utilities come from certain types of renewable energy by 2030 (neither pre-1997 hydropower nor any nuclear generation counts for this percentage); the current plan increases use of the same types of renewable energy from 8% this year to 15% in 2025. A "YES" vote also will mandate that these utilities increase their use of distributed renewable energy (energy locally generated and distributed from customers' premises) to 10% by 2030; will require the new mandates be met by obtaining renewable energy credits, which may be created through renewable energy production or purchased from others who own existing renewable energy credits; and will require the Arizona Corporation Commission to enact implementing regulations.
A "NO" vote will preserve the existing rules that govern the required annual percentage of retail sales of renewable energy by nongovernmental electric utilities.
Proposition 305
AMENDING SECTIONS 15-2401, 15-2402, 15-2403 AND 42-2003, ARIZONA REVISED STATUTES; AMENDING LAWS 2013, CHAPTER 250, SECTION 3; RELATING TO EMPOWERMENT SCHOLARSHIP ACCOUNTS.
---
The Law would expand eligibility for education empowerment scholarship accounts to increase the number of eligible students enrolled in kindergarten through twelfth grade, with greater funding provided for low-income students.
A "YES" vote would allow Senate Bill 1431 (2017) to go into effect, which would gradually increase for four years the percentage of students in kindergarten through twelfth grade eligible to receive an empowerment scholarship account to spend on tuition, textbooks, educational therapies, tutoring, or other qualified forms of instructional assistance at a private or home-based school in an amount equal to 90% of the allotted funding that otherwise would have been allocated to the student's public school district or charter school (for low-income students, the amount would be equal to 100% of the allotted funding); make changes to the existing empowerment scholarship program by requiring a policy handbook to be published for program applicants and participants, clarifying parental rights to appeal Department of Education eligibility decisions, and placing scholarship spending information on the Department's website; and control the growth of the scholarship program by limiting new scholarship accounts each
year through 2022 and eventually capping the number of new scholarship accounts at 2021-2022 fiscal year levels.
A "NO" vote will preserve the existing law regarding empowerment scholarship accounts.
Proposition 306
AMENDING SECTIONS 16-948 AND 16-956, ARIZONA REVISED STATUTES;
RELATING TO THE CITIZENS CLEAN ELECTIONS ACT
---
The Law would prohibit candidates who finance their political campaigns with public funding from the citizens clean elections commission from transferring any campaign funds to a political party or private tax-exempt organization that attempts to influence elections and subjects the commission's rulemaking procedures to regulatory oversight.
A "YES" vote will prohibit statewide and legislative candidates who receive public funding to finance their political campaigns from transferring campaign funds to a political party or a private tax-exempt organization that attempts to influence elections, and will subject the Citizens Clean Elections Commission's rulemaking procedures to the regulatory oversight that applies to other state agencies by repealing the Commission's exemption from the Administrative Procedures Act.
A "NO" vote will allow the Citizens Clean Elections Commission to determine whether publicly-funded candidates are permitted to transfer their campaign funds to political parties or private tax-exempt organizations that influence candidate elections, and will leave current law unchanged regarding administrative oversight of the Commission
Answer to No 4 Halloween Question: Dr. (Victor) Frankenstein